Arthur L. Myracle Family
compiled by Glenda VandeVen Myracle
Arthur L. Myracle, son of Harvey Washington (Wash) Myracle and Sarah Catherine Keeton, was born May 30, 1883 in Decaturville, TN. He died Oct. 15, 1961 in Dallas County, Texas according to the Texas Death Index 1903-2000.
Arthur L. or AL Myracle married Martha E. Ward, daughter of William H. Ward and Clementine Rone, November 29, 1903 in Decatur County, TN. She was born Oct. 31, 1877 and died April 29, 1911 and is buried in the Campground Cemetery, Decatur County, TN. AL and Martha had two sons, Clyde and Wiley.
Clyde Eugene Myracle was born Oct 31, 1904 in Decaturville, TN and died Feb. 14, 1971 at Okeechobee, Florida. Clyde is buried in the Portageville Cemetery, Portageville, Pemiscot County, MO. Clyde married Gladys Rone May 12, 1927. They had one son, O. Wayne Myracle.
Wiley Eugene Myracle was born Oct. 3, 1909 in Decaturville, TN. He was first married to a Katherine N. (Kay) Stoffle. Wiley and Kay had two children, Martha Frances and Thomas Clyde. Thomas was born Dec. 12, 1938 at Wardell, Pemiscot County, MO. and died Jan. 9. 1939 at Wardell, Pemiscot County, MO. According to sources, Thomas is buried at Portageville Cemetery, Portageville, Pemiscot County, MO, but DeLisle funeral home cannot find any record of his burial there to give us an exact location of his grave.
Wiley married Helen Orvie Faries, daughter of Darcy Orton and Inez McIntosh Faries, Jan 18, 1948 at Piggott, Clay County, Arkansas. Helen was born Nov. 2, 1924 at Walnut Ridge, Arkansas. Wiley and Helen had four children, Arthur Dewayne, Johnny Dale, Jerry Ray and Janna Marie. Wiley passed away Sept. 12, 1988 and was buried Sept. 14, 1988 at Russell Heights Cemetery, Jackson, Cape Girardeau County, MO.
Arthur L., Martha, Clyde, Wiley are all listed along with Arthur L.'s brother, Orville in the 1910 census of Decatur County, TN.
The 1930 census of Dallas County, TX lists Arthur L. along with his wife by the name of Nettie A. whom he probably married around 1918. Arthur L. married a John Margaret in 1948. Wiley and his wife, Helen, along with their oldest son, Arthur Dewayne, went to visit him at that time.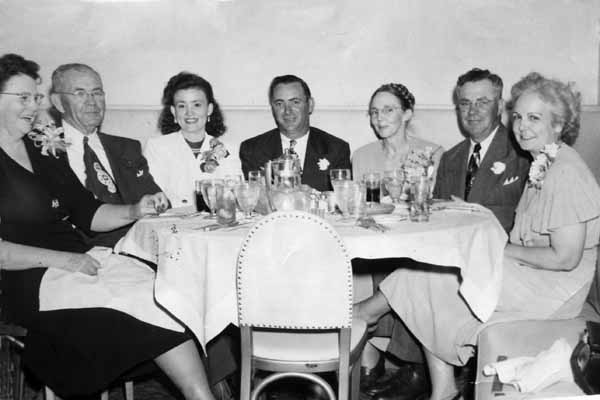 left to right: John Margaret and Arthur L. Myracle, Helen Faries Myracle and Wiley Myracle,
unknown woman, Clyde and Gladys Rone Myracle.
---
Arthur L. Myracle Obituary
Dallas Daily News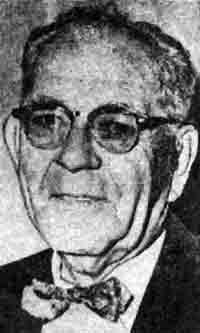 Arthur L. Myracle, 75, of 4611 Virginia, a retired city health department employee, died Sunday morning at his home.
Mr. Myracle retired in 1956 after 26 years' service with the health department. He was born in Decaturville, Tenn., and had lived in Dallas since 1918. He was a deacon of the Highland Baptist Church and a member of the Metropolis Lodge of the IOOF.
He is survived by his wife; two sons, Clyde Myracle of Portageville, Mo., and Wilie Myracle of Marston, Mo.; three brothers, H. W. Myracle, Orville Myracle and John Myracle of Decaturville, seven grandchildren and five great-grandchildren.
Funeral services will be held at 3:30 p.m. Tuesday in the Highland Baptist Church, 4124 Oak Lawn, with Dr. Charles P. Pitts and Dr. David Whitson officiating. Burial will be in Grove Hill Memorial Park.
Pallbearers will be T. J. Wagley, W. E. Cunningham, Fred Morse, Earl Miller, A. E. Scheffler, J. B. Duke, O. C. Roupe and Joe Fisher.
Honorary pallbearers will be deacons of the Highland Baptists Church.
Clyde Eugene Myracle Dies of Heart Attack
Last rites were held for Clyde E. Myracle of Portageville, Mo., route 3, Wednesday, February 17, 1971 at 2:00 p. m. at the Hayward Methodist Church, with Rev. L. E. Butler officiating.
He was born October 31, 1904 at Decaterville, Tenn., and died suddenly of a heart attack in his mobile home at Okeechobee, Fla., at the age of 66 years, 3 months and 14 days. He and his wife had gone there several weeks ago to spend their winter vacation. Mr. Myracle had not been in good health for several years, and had looked forward to this period of relaxation.
A prominent farmer, land owner and civic leader, the deceased has contributed much time and effort in building and sustaining the Hayward Methodist Church of which he was a loyal member through the years. He was a member of Odom Loodge No. 671, A. F. & A. M.
Masonic rites were held in the lodge at 8:00 p. m., Tuesday, February 16th.
He was the son of the late Martha Ward and Authur Myracle.
In 1927 he was united in marriage to the former Miss Gladys Rone. Besides his wife he is survived by one son, Wayne, three grandchildren, a brother, Wylie Myracle of Jackson, Mo.
Interment was in the Portageville Cemetery with DeLisle Funeral Service in charge of arrangements.
Pallbearers were Bobby Ward, Paul Ward, Herbert Rone, Kenneth Johnson, Norvil Ward, Gene Rone, Harry Littleton and Don Rone, Jr." (Name of paper unknown)
Gladys Rone remembrance card from her funeral
Gladys Rone Myracle, was born March 16, 1910 in the Hayward Community, to the late Nancy J. Fisher Rone, & George W. Rone. She died November 1, 1993 at MO Delta Medical Center in Sikeston, MO, at the age of 83 years, 7 months, and 15 days. She was united in marriage in May 1927, to Clyde Eugene Myracle, to this union was born one son, O. Wayne Myracle, who survives. Clyde preceded her in death on Feb. 14, 1971. Also proceeding her in death were her mother Nancy J. Fisher Rone & George W Rone; and 12 Brothers and sisters. She attended the Portageville Public Schools and Southeast MO State. She and Clyde farmed in the Hayward Community for many years, and were the first settlers of the community. She leaves to mourn her passing: one son: O. Wayne Myracle of Portageville, MO, and daughter in Law, Libby Myracle. Her grandchildren; Eugene and Deborah Myracle of Conran, Mo. George Martin and Selena Myracle of Conran, MO., and Nancy Lea Jones, and Mark Jones, of Portageville, MO and great grandchildren: Elizabeth Myracle and Claire Jones and Andrew Jones, and a host of other relatives and friends.
Wiley Myracle Obituary
JACKSON – Funeral service for Wiley Myracle of Jackson will be held at 2 p.m. Wednesday at McCombs Funeral Chapel. Rev. E.D. Francis will officiate, with burial in Russell Heights Cemetery.
Friends may call at the funeral home after 6 tonight.
Myracle, 78 years old, died Monday, Sept. 12, 1988, at St. Francis Medical Center.
He was born Oct. 3, 1909, in Decatur, Tenn., son of Arthur and Martha Ward Myracle. He and the former Helen Faries were married Jan. 18, 1948.
Myracle was an elementary teacher and principal 33 years. He was a principal at Marston, moving to Jackson in 1965 where he was principal at Jackson R-2 Schools in Fruitland until retiring in 1973. He then was custodian at Central Elementary in Jackson five years, and for eight years worked at the Texaco Self-Service Station here, retiring in 1987.
He was a member of Missouri State Teachers Association and AARP. He was of the Methodist faith.
Survivors include his wife; three sons, Art Myracle of Cape Girardeau, John Myracle of Gordonville, Jerry Myracle of Jackson Star Route; a daughter, Janna Myracle of Jackson, and four grandchildren.
He was preceded in death by a brother and sister.