Douglas - Wilson Family Gathering - October 1917
from the collection of Annice Wilson Meeler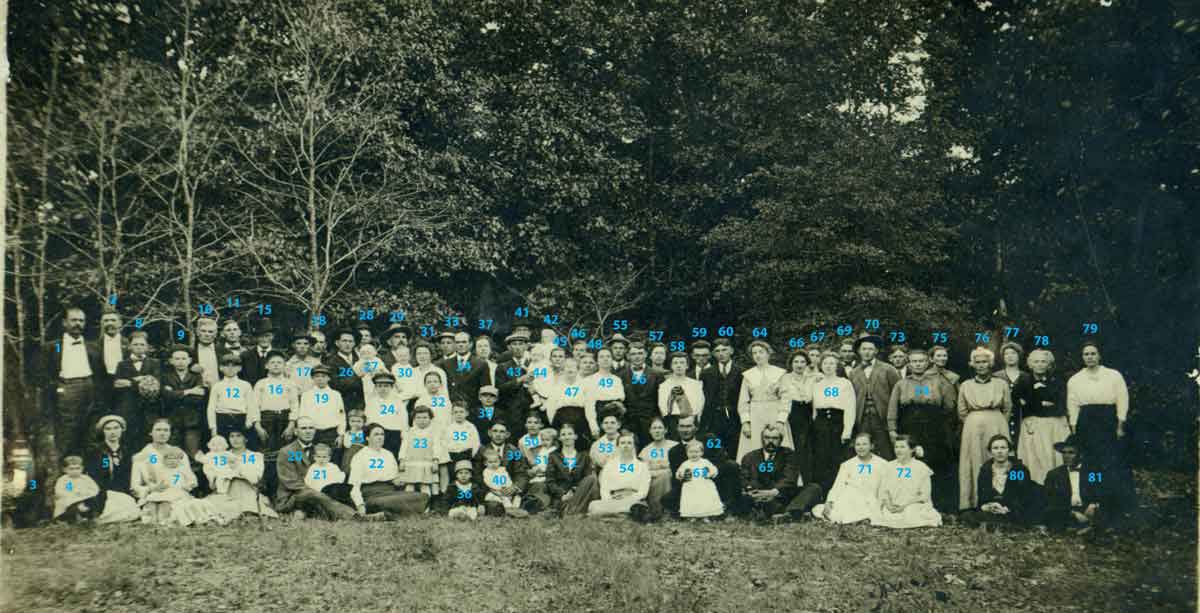 Gathering of Relatives and Friends of Oscar A. Douglas
at the home of his mother, Julia Catherine Wilson Douglas
as Oscar left for WWI.
(NOTE: Many of these relatives are the descendants of Henry Thompson Wilson and his wife, Lucinda Story Wilson)
This photograph is owned by Joann Taylor Stephens of Jackson, TN and is a photo of a gathering of descendants of Henry T. Wilson and his wife Lucinda Story. The photo was taken in Henderson Co, TN approximately in 1916. Joann estimated the year based on the age of Cyril Pearson (one of the babies in the photo). Her grandfather is Joseph Henry Wilson (identified as No. 1 on the photo) and her grandmother is Eliza P. Wilson (No. 75). My great-grandfather is Robert Caffey Wilson (No. 65) and great-grandmother is Nancy Ellen Wilson (No. 47). While we can't identify all the folks in the photo, we think their descendants may be able to do so. Please contact Annice Wilson Meeler at zann80@gmail.com if you can provide the names of any of the unidentified people in the picture. JoAnn Taylor Stephens can be reached at joann20gmc@gmail.com.
Updated April 2011
While on a visit to Nashville, my sister and I met with another cousin (Betty Parham) in April 2011 who shared a scrapbook kept by her grandmother, Rubye Ora Douglas Morgan Milam (Mrs. Roscoe Gray Milam). In the scrapbook was an article extracted from the newspaper describing a family gathering at the home of her mother, Julia Catherine Wilson Douglas. We believe the above photo was taken at this family gathering. Betty Parham can be reached at bparham11@bellsouth.net.
The article reads as follows:
October 15th, 1917
In Honor of Oscar A. Douglas
Last Sunday at the home of Mrs. Julia Douglas near Bargerton there about 80 relatives and friends gathered to spend the day to show the love and respect they had for Oscar A. Douglas who would have to leave Monday for Camp Gordon. The morning was spent in making pictures and victrola music. When the noon hour arrived, in the hall was fixed a nice and sumptuous dinner which this number enjoyed. Two nice lunch boxes were fixed by the young ladies for him to carry on his journey. In the afternoon a song service was conducted by Profs. Hersie Davis and Joe Anderson until 4 o'clock when the crowd departed for their homes. A picture of the entire crowd was made by Arthur Johnson, this group numbering 73. Each one bade Oscar goodbye with tears in their eyes and prayer on their hearts for his safe return soon to his home and dear old gray-haired widowed Mother.
Signed, a Cousin
Other information